Artist Corban Lundborg was invited to participate in Gabba Galleries 2017 Create Digger art show in Los Angeles. The theme of the show was 12″ x 12″ (vinyl record sleeve dimensions) art inspired by vinyl.
Corban created a series of 5 portraits inspired by hip hop music pioneers but with a twist. He matched up classic rock groups that he thought would be a unique collaboration.  He selected his three favorite and submitted for the show. His work was featured alongside many talented artists. 
Here are Corban's 5 hip hop/classic rock mash ups.
The first painting is titled "West Side of the Moon" and this piece is of hip hop legend Tupac Shakur mixed with Pink Floyd's famous logo refracting light from his third eye, inspired by his revolutionary message and social maturity. The refracting of light occurs when a wave enters a medium where its speed is different, and Tupac approached the music industry at an unmatched momentum.
The second painting is titled "Notorious Nirvana" and this painting is of The Notorious B.I.G, Christopher Wallace. On Biggie's face is painted rock-legend Nirvana's yellow smile logo, inspired by the irony of their dark and depressing sound. In hinduism, nirvana is the highest state one can achieve, a place of enlightenment, where ones suffering goes away. This duo was matched due to the passing of both B.I.G and Nirvana frontman, Kurt Cobain, who likely both suffered from depression.
The third painting is titled "Sane Shady" and is of hip hop trailblazer Marshall Mathers, Detroit's hip hop legend Slim Shady or Eminem. On Slim's face is painted David Bowie's famous Aladdin Sane lighting bolt. This duo was inspired by both artists multiple alter egos.
Corban's fourth painting is of modern rapper and music producer, Kanye West, an artist known for his enormous ego. This painting was inspired simply for namesake, using classic rock band "The Who" as a way of suggesting irony and humility, Kanye Who?
Last but not least, this painting titled "Jayger" is of Shawn Carter, otherwise known as Jay-Z, legendary rapper and founder of ROC Nation. This mash up of Jay-Z with The Rolling Stones "lip logo" is not only inspired by mega wealth and main stream success, but by Jay's and Mick Jagger's famous large lips.
This COLD collection can viewed at Gabba Gallery in Los Angeles through the Fall of 2017.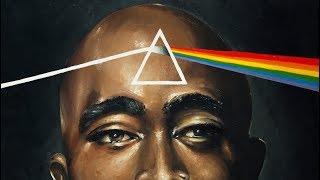 All artwork, photography, video and writing by Corban Lundborg.